TIGER SHAFTS
Learn More About the Exceptional Technology & Quality Behind Tiger Shafts.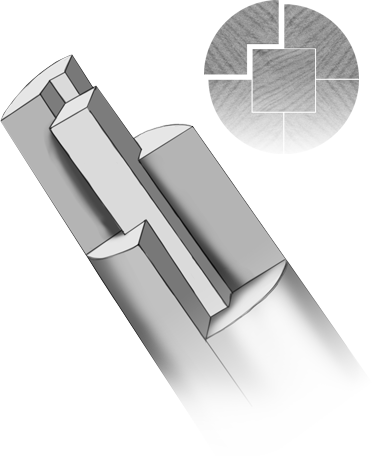 The X factor
At Tiger, we believe in staying true to our core values: Bringing premium quality products to the pool and billiard industry.
After extensive research and development, we proudly introduced our patented 5X laminated technology system with our original X Shaft in 2004.
This four-piece lamination process is meticulously crafted to create the perfect X effect, resulting in unparalleled consistency and feel. The elongated square fifth piece ensures that the integrity of the natural Maple hit and feel is maintained, while adding unbeatable feedback and control.
Using only Maple and our 5x core technology for all of our high performance series shafts, and balsa for our low to no deflection shafts, our laminated low deflection shafts are the only ones in the world with all wood, all solid construction, ensuring the solid hit and feel you need to move the cue ball with precision and accuracy.
Today, our Tiger Shafts prove you can trust that every shot will be executed with the utmost accuracy and consistency, guaranteed. Join the ranks of the world's best players and experience a Tiger Shaft today.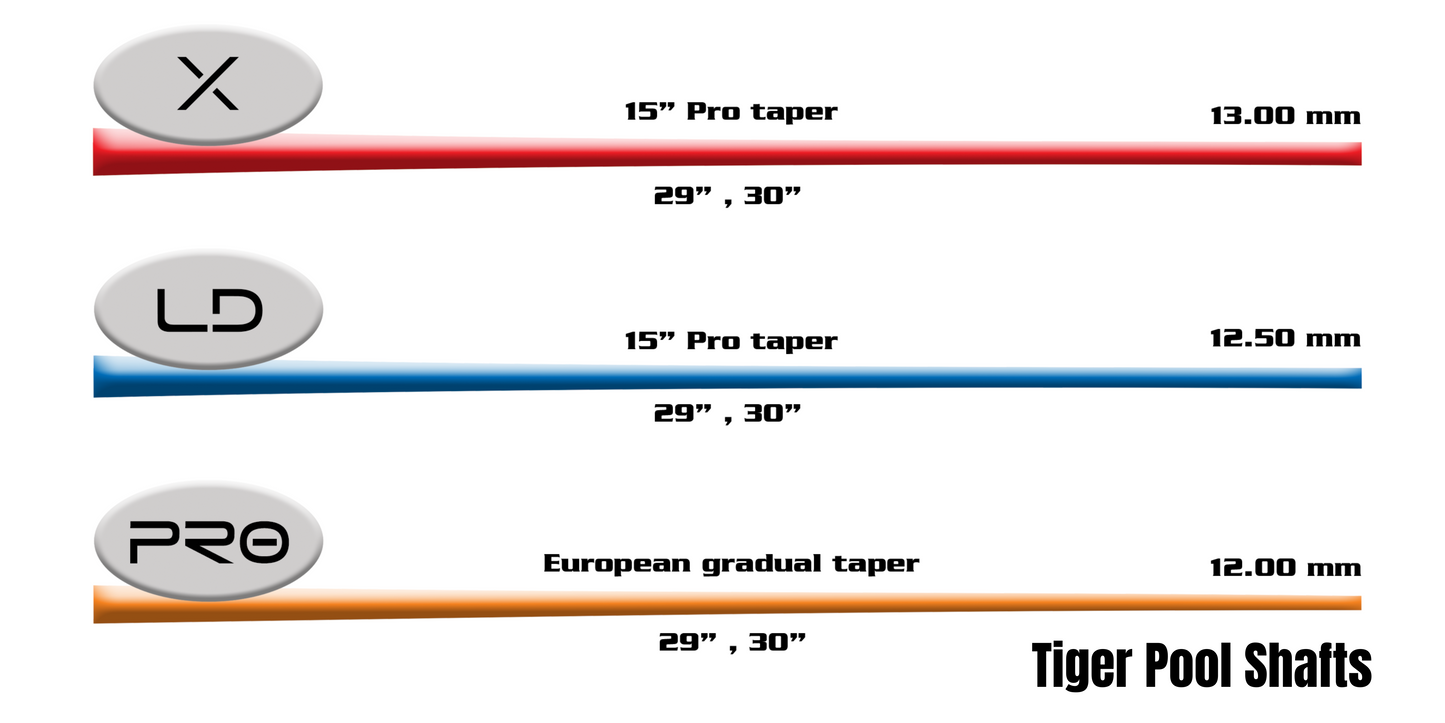 TIGER Pool SHAFTS
Tiger X® High Performance Shaft - The best high-performance shaft on the market. With its solid Maple construction and superior accuracy, this is the go-to choice for players seeking unbeatable power and consistency. Its 13.00 mm tip size, 15" pro taper, ½" Saber-T ferrule, and Sniper laminated tip make it the perfect option for those looking to execute precise masse shots. Say goodbye to conventional shafts and hello to Tiger X®.
Tiger LD Shaft - The top choice for players seeking a seamless transition to low deflection. With its unique solid construction, it offers the best of both worlds - unparalleled low deflection performance with a solid feel and unparalleled cue ball control. Boasting a 12.50mm tip size, pro taper 15" and 1/4" Safer-T ferrule, and Sniper laminated tip, the Tiger LD Pool Shaft delivers better feedback, more power, and overall improved performance on every shot. Upgrade your game with the Tiger LD Pool Shaft today.
Tiger Pro Shaft - The ultimate low deflection shaft! Its 5X patented laminated construction and pin point balance accuracy combined with Tiger's European gradual taper make it the best in its category. Unlike other low deflection shafts that compromise on the solid feel by inserting other materials, Tiger Pro is made with all solid wood construction, giving players natural power, superb feedback, and added spin and control. With a 12.00 mm tip size, ¼" Safer-T ferrule, and Onyx-LTD laminated tip, this shaft is perfect for those who demand the best.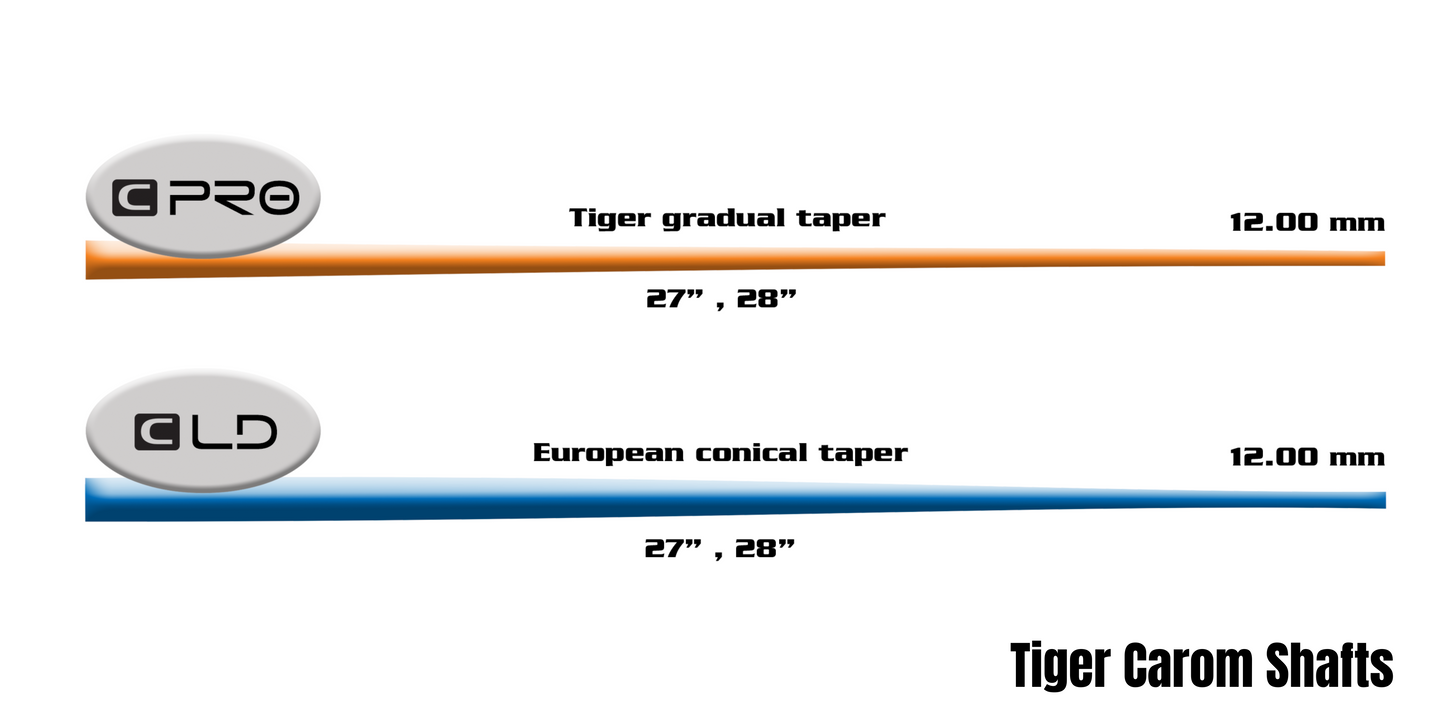 Tiger Carom Shafts
Tiger Carom Shafts have revolutionized the game with their cutting-edge technology. Our patented 5X construction ensures that each shaft is built to withstand the rigors of even the most intense matches. Our creative flex and balance points allow for pinpoint consistency, giving you the control you need to dominate the competition. Our special front-end ferrule technology provides an unbeatable feel that will keep you coming back for more. But that's not all - our CPro and CLD shafts are two of the lowest to no deflection shafts in the world today. In fact, our tests have shown improvements of up to 57% less deflection compared to most standard or high-performance shafts. That's right Carom LD improved by 41%, and Carom Pro by a whopping 57%. With Tiger Carom Wood Shafts, you'll have the power and precision you need to take your game to the next level.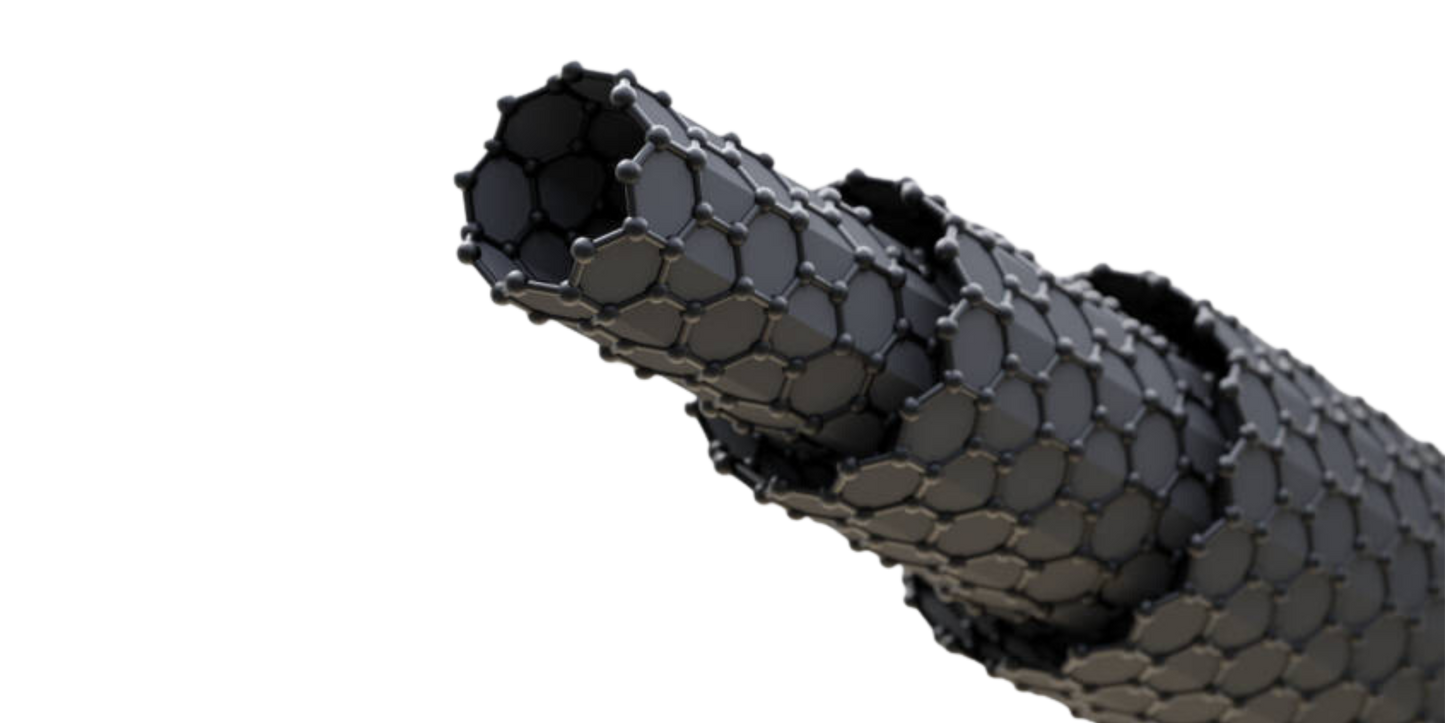 The Fortis Difference
Craftsmanship and technology are at the forefront of every single Tiger product.
Five years ago, we took on our next big challenge – mastering the carbon fiber shaft. We refused to put anything out on the market unless it matched or exceeded the quality of our world renowned Tiger Shafts. After years of research, development, trial and error we created the powerful FORTIS Carbon Fiber Shaft, the best carbon fiber shaft on the market today. With premium Multi-Layer Nanotube Seamless Technology (MLNST*) and Tiger's signature core technology, the Fortis is a true game-changer.
One of the biggest advantages of the Fortis Carbon Fiber Shaft is that it can withstand extreme temperatures and humidity levels, making it a reliable choice for players who often play in different environments. Our American-made Tiger shafts are renowned for their quality and performance and the Fortis Carbon Fiber Shaft is no exception.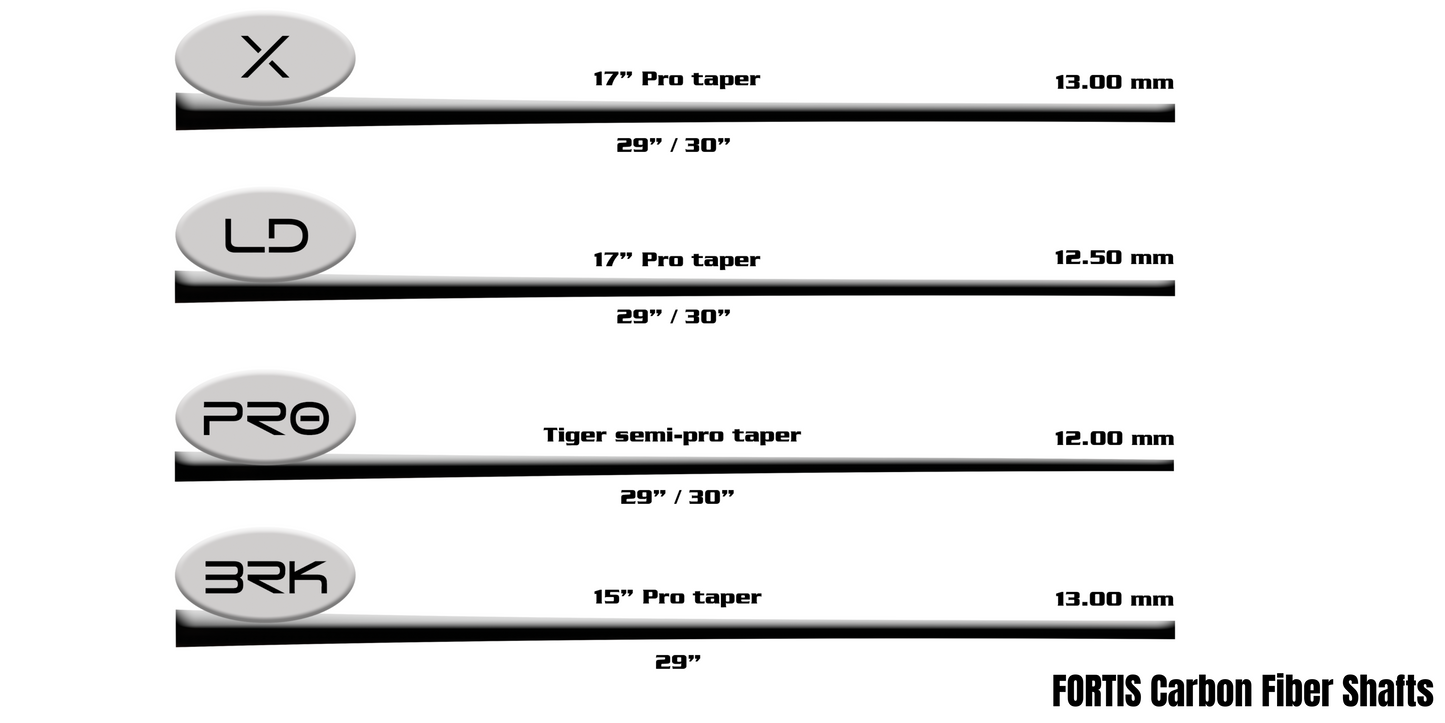 FORTIS CARBON FIBER SHAFTS
Introducing the Fortis Carbon Fiber Shafts by Tiger - the most powerful, solid hitting, and lowest deflection shafts available. After years of research and development, the Fortis offers exceptional feedback and consistency, giving players renewed confidence in their long shots. With a sleek, natural finish, these shafts are designed for a better slide on each shot, regardless of heat or humidity. Choose from three different types of taper and sizes - the Fortis- X (13 mm tip size, 17" pro-taper) for high performance, Fortis-LD (12.50 mm tip size, 17" pro-taper) for overall spin and accuracy, Fortis-Pro (12.00 mm tip size, semi-pro taper) for extra spin and draw. Our Icebreaker and IMPAKT break and break/jump cues also now come standard with the Fortis Break which offers a 15" Pro Taper and 13mm tip size for a game dominating break. Take your game to the next level with Fortis Carbon Fiber Shafts.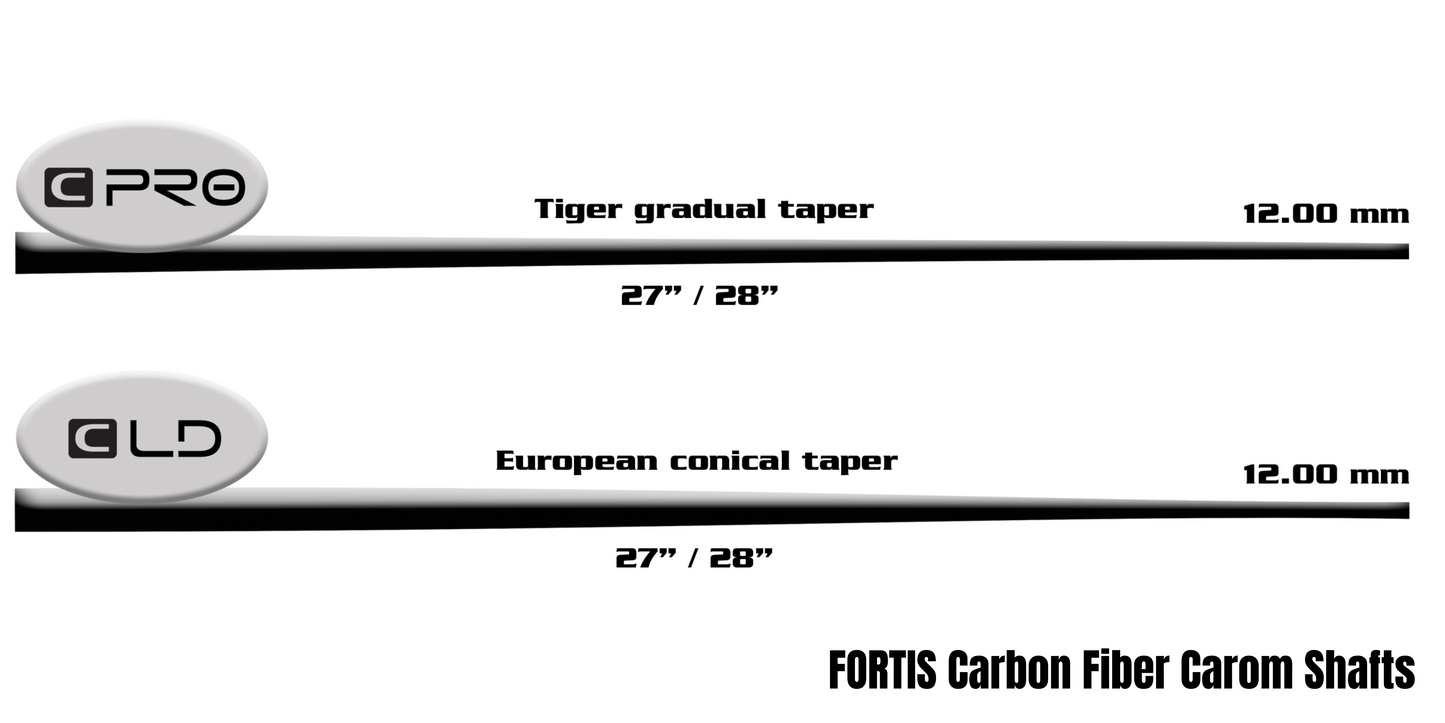 Fortis Carom Carbon Fiber Shafts
The Fortis Carom Carbon Fiber Shafts are the only choice for players looking for power and precision on the table. Engineered to offer unparalleled power, solid feel, and accuracy they are a must-have for serious carom players.
The Fortis CLD Carbon Fiber shaft is designed with a low deflection technology that minimizes the amount of cue ball deflection, allowing you to hit your shots with more power and precision. Additionally, the Tiger gradual taper and 12 mm tip size provide a solid feel and enhance accuracy, giving you the confidence you need to take your game to the next level.
On the other hand, the Fortis CPro Carbon Fiber shaft boasts a no deflection feature that allows for more spin on the cue ball. The European conical taper and 12 mm tip size deliver an unmatched feel and control, making it easier to execute complex shots and achieve perfect positioning on the table.
Overall, the Fortis Carom Carbon Fiber Shafts are for players who demand the best in performance and quality. Whether you prefer low deflection or no deflection, these shafts will give you the power, accuracy, and control you need to dominate the game. Get yours today and experience the ultimate in carom shaft technology!