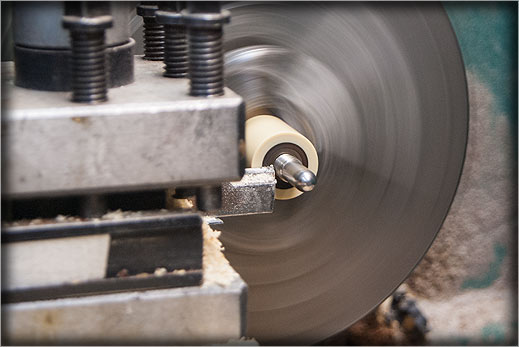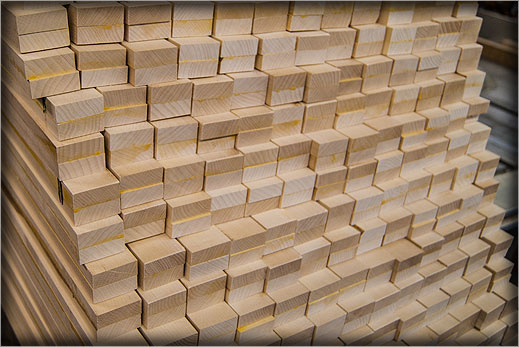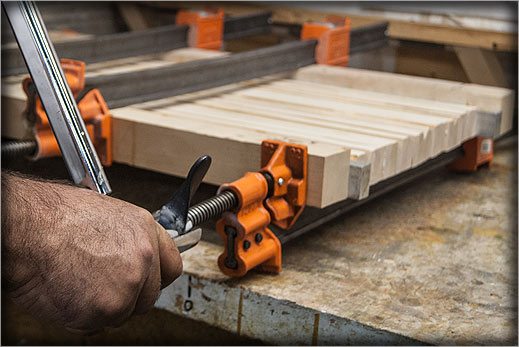 Unparalleled Technology
Welcome to Tiger, the epitome of cutting-edge technology in the billiards world. With over 25 years of industry experience and knowledge, we take pride in being the best while continuously pushing the boundaries to deliver unparalleled products. Our patented and copyrighted technologies ensure maximized, optimized, and robust performance, setting new standards for players worldwide.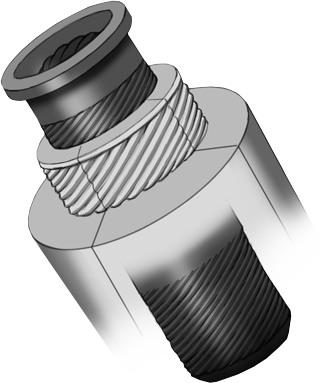 Shaft Joint
Tiger Shaft joints and inserts are made with double black linen phenolic tubes and rods. Although Phenolic adds a cosmetic touch, it also helps increase power from the joints while keeping the wood to wood feel. Phenolic is much more durable than wood allowing connections to stay true to their form much longer. All parts are custom made in our factory and threaded to make sure you get the purest hit and solid feel every time. 

JOINT TYPES FOR SHAFTS
We proudly offer a variety of joint type options for our high performance or low deflection shafts. If your cue joint is not a stock item, it doesn't mean we can't make it! Although it might fall under a custom category, in most cases Tiger can make it.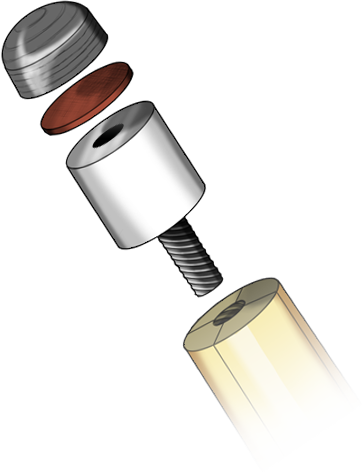 Cue Tip & Ferrule Technology
Known globally for their consistency, feel and power, Tiger Tips set the industry standard. As one of the original laminated cue tip makers, Tiger Tips are made by our master craftsmen in house from start to finish using  only the finest of leathers and technology. 
The Ferrule is just as important to the playability of a cue as cue tips are. After years of searching for the perfect ferrule, we decided if we wanted perfection, we'd have to create it ourselves. Thus was born the Saber-T ferrule. Possessing many of the characteristics you can only get from Ivory, the Saber- T ferrule machines well, sands like wood, polishes well and does not get burned or damaged by friction. It stays clean and does not swell or get scratched easily. In addition to manufacturing well, it also provides a pure feel and incredible feedback! Our custom made phenolic tendons are used to install the Saber-T on all of our shafts providing the perfect combination for ultimate strength and pinpoint accuracy.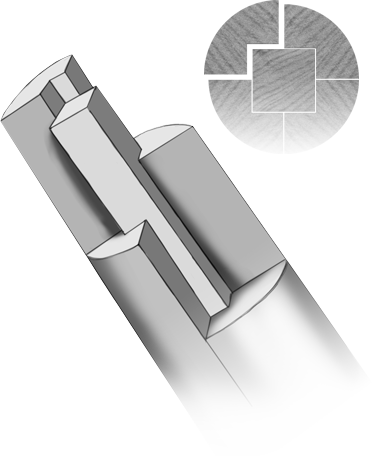 Shaft Technology
Every Tiger wood shaft is made using our 5x patented technology. 5x is a 4 piece lamination process from outside that uses the same number of grain pieces in each piece. Each piece has straight grain and is aligned so the grains will move toward the center of the shaft creating the perfect X effect. This helps us create the perfect 360 radial consistency. The 5th piece is our elongated square going from one end to the other, adding unsurpassed feel while keeping the integrity of the natural Maple hit and feel. To learn more in-depth about Tiger Shafts, click here
Cue Joints
All Tiger Cues made after September 1st, 2016 come standard with the Tiger joint pin. Our Tiger Joint pin is a 3/8 (9) Acme Style Thread made for a seamless and solid feel. Stainless steel is used for Pool and Aluminum for Billiards. Designed exclusively for Tiger cues, the Tiger pin offers a precise connection and a tight fit. Fully guaranteed not to come loose during play, the Tiger pin adds consistency, a solid feel and unsurpassed power to your game every time! Proudly made in the USA.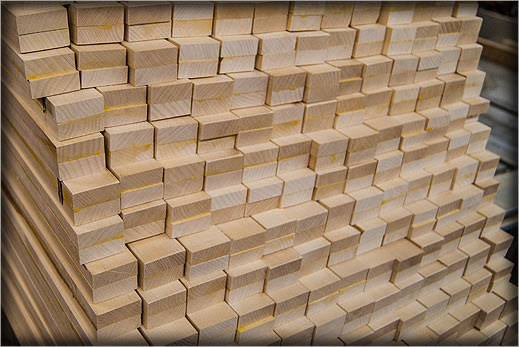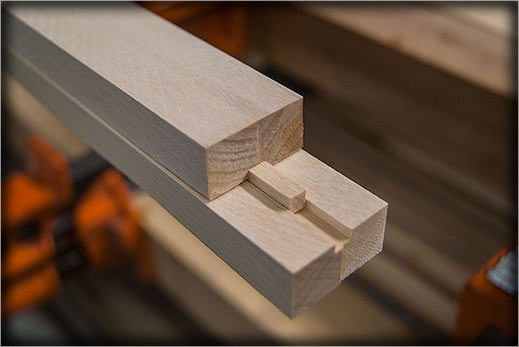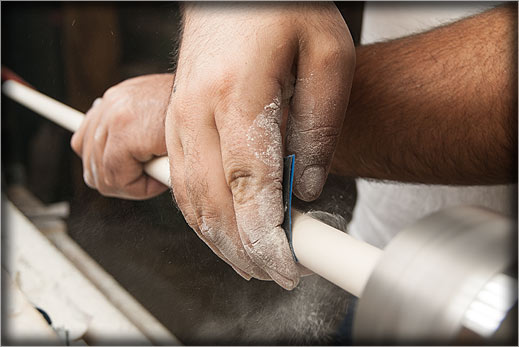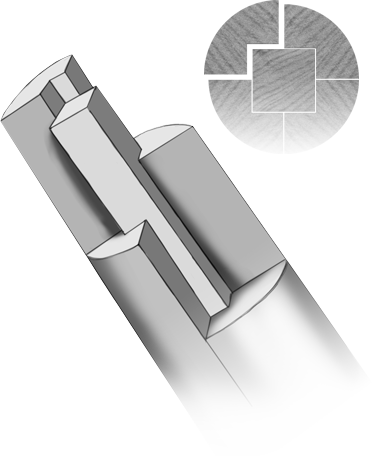 Core Technology
At Tiger, we only source  A+ grade exotic woods from all around the world. After the wood has arrived at our factory, we let it cure for a minimum of 1-2 years, sometimes longer! Although beautiful, what makes our cues special is not just their outside appearance, but what many don't see. Our internal construction, which has taken many years of trial and error to perfect, is what makes Tiger cues stand out from the rest. Incorporating our 5x patented shaft lamination system into the core construction of our cues allows for radial consistency and adds a solid hit with more power and no vibration.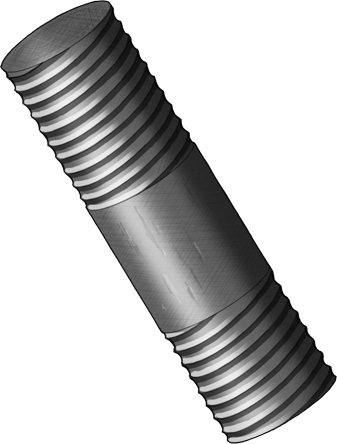 Cue Internal Joint
At Tiger, we stand by our manufacturing capabilities. That's why each part of Tiger cues are made in house by our master technicians to provide the strongest possible connection.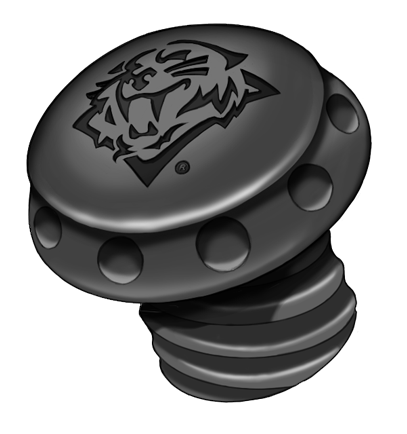 Rubber Bumper & Weight Technology
Tiger cues come standard with our custom rubber bumper for a unique look and enhanced performance. Do rubber bumpers actually make a difference in the performance of your cue? Yes! Tiger rubber bumpers are made with the right angle to protect the butt cap. The quality of the rubber is unlike any on the market, making Tiger rubber bumpers the most durable in the world while absorbing and eliminating vibration within the cue. 
Tiger cues use a 5/8 (18)' weight bolt system allowing us to adjust weights from 17+ oz all the way to 21 oz, while keeping the proper balance for each cue.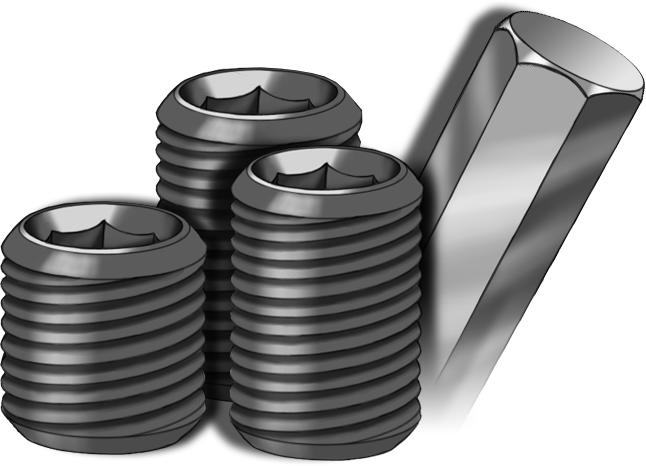 Tiger cues use a 5/8 (18)' weight bolt system allowing us to adjust weights from 17+ oz all the way to 21 oz, while keeping the proper balance for each cue.